Project Boards
What is a Project Board?
A project board is a large learning display created by the student. This could be on a tri-fold science fair board, poster-board, set up displays, or a small bulletin board. The idea is to arrange mini-topics on a subject in an organized, pleasing, and informative manner as to display what a child has learned.
How can they be used in the classroom?
The most familiar project board to most of us will be the typical science fair display board, but we can also implement those ideas to demonstrate social study units, biographies, art, and music.
These make a nice assessment for a unit as well as a demonstration in open house night or project fair. You might wish to check out the shutter book page for ideas implemented from adding mini-books to such a project board.
Timelines are another good source of a project board. You can add clipart and notes for each activity of a time frame that you are studying.
How are they created?
That is totally up to the imagination of the student and teacher. You will need a background board or paper of some type. Bulletin board letters can be traced to make headings or you can type and print some larger font labels from your computer. Remember to demonstrate some type of flow that the eye will travel along the board in the manner you would have them to.
Samples of our Project Boards:
Ashlee's Laura Ingalls Wilder Biography Board (Grade 5)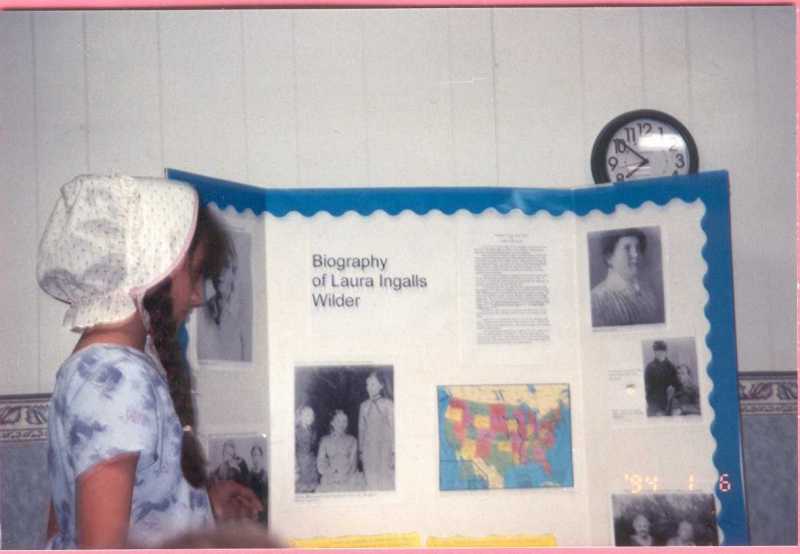 The girls' Civil War Demonstration Board (Grade 4 and 7) - My girls created the one on the right. Friends of ours created the one on the left.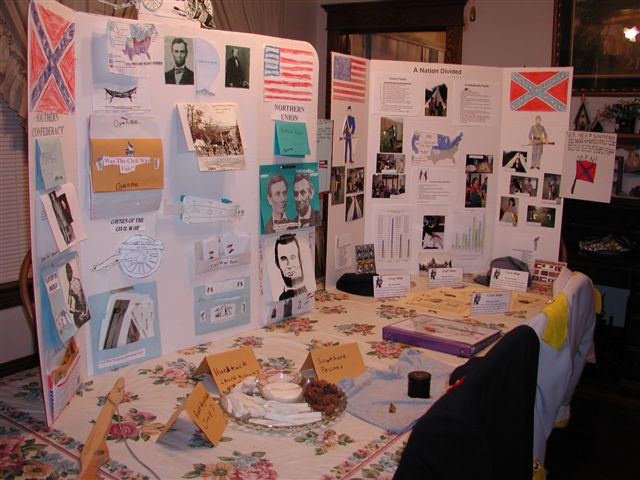 Civil War Timeline by both girls (Grade 4 and 7)

Book Sources:
Carratello, John and Patty, All About Science Fairs, 1989, Teacher Created Materials (Discusses how to go about doing a detailed science investigation and how to best display your science findings on a display board.)
Zike, Dinah, Big Book of Books and Activities, 1989-1994, Dinah-Might Activities, Inc. (Has a nice section on desk top projects that goes along with this concept.)
Zike, Dinah, Big Book of Projects, 1989-1994, Dinah-Might Activities, Inc. (I actually had written up this page before ever seeing this book of Zike's. After seeing it, I must confess that this is the best book I have ever seen on project creating. She expanded my thinking on these into a whole new world! )
Zike, Dinah, How To Use Dinah Zike's Big Book of Projects video, 1989, Dinah-Might Activities, Inc. (Awesome!)
Internet Links:
http://www4.umdnj.edu/camlbweb/scifair.html Science Fair links
http://www.dinah.com/ Her site has a nice picture of a project board. You can also order some of her materials from this site.
Background from Graphic Garden