Highland Heritage Forms
<![if !vml]>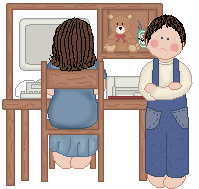 <![endif]>
Even though I have eliminated most of the bells and whistles from this site to make room for more forms to be loaded, I couldn't resist this one graphic. It looks so familiar of our home at times when I am working on creating forms or WebPages. I hope it brings you a smile, and let us all thank God for patient husbands.
Most of the forms on this site have been update to acrobat reader files, but a few remain as GIF images. All of the forms are ones I have developed for our home school. They are not to be used for resale, but feel free to use them in your school in anyway they may help. Enjoy and come back again. I will be loading new forms throughout the year.
To view these printables you need Adobe Acrobat Reader 5. Click to download -- it's free!
823 Forms and Counting!!!!
(If you would like notified of any changes to this site,
 <![if !vml]>

<![endif]>
Click to subscribe to highlandheritage)
***Updated 04/30/05
Background from Graphic Garden
Clipart from Graphics by Irene
Mr. Web Counter says you're visitor 
  Since February 2001